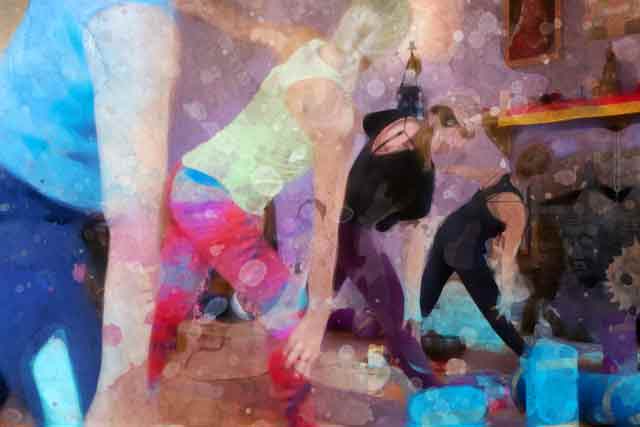 Jo's weekly meditation and yoga classes are available online. Membership includes:
Tuesday Morning Meditation with Jo (drop-in cost £8 per week)
Wednesday Morning Yoga with Jo (drop-in cost £13 per week)
Access to all recorded classes dating back to March 2020 in a private Facebook group
Members are valuing supporting each other in the private group, being able to take the classes multiple times via the recordings , as well as enjoying this new level of home practice.
In such uncertain times we need online support more than ever. Meditation and Yoga classes are held via Zoom meaning that we can all 'see' each other and have discussions both before and after the actual class.
The subscription costs £50 which works out to £12.50 per week meaning you 'pay' for the yoga class, with the meditation session as a bonus (they cost £13 and £8 respectively per drop-in each).  Join classes live, or catch up on the recordings which are posted into the private Facebook group.
As a teacher of yoga and meditation for 20 years Jo explains how life-changing these online sessions can be,
"It is the biggest step; from attending a class to actually practicing at home. It takes maturity for a student to be able to do this, and a complete shift in consciousness to have the motivation."
So stabilising your home practice could have a long-lasting effect on your life. Now has never been a more important time to practice meditation, self-enquiry, living from the heart, and what we are being asked as a planet right now is self-love and discipline.
Feedback from Jo's online classes:
"Thank you Jo for our online yoga classes 🧘‍♀️ Find it amazing that with a strategically propped smart phone and some make do yoga props we were able to feel connected and supported to you and our fellow yoga members. The meditations were particularly invaluable at this time. Thank you so much for making this available to us. Love and blessings 💖xxx"
"Thank you for your yoga class yesterday it was totally fantastic. Wonderful to still be able to do your yoga and the meditations were particularly needed"
"These are going to be a life saver going forward and the membership is a great idea and will help our commitment to regular practice going. Well done for getting this organised so quickly to keep our momentum going."
"I really enjoyed the meditation and yoga sessions. It's not just the classes themselves; it's the opportunity to connect with others that lessens the loneliness & boredom of having to stay at home. Many thanks for everything you do for us Jo"
"Thank you very much for this morning's Zoom Yoga session.  Such an enterprising idea to conduct the class online!"
"Thank you for today's class. I'm seriously considering the monthly deal and will have decided by tomorrow. Meanwhile, a big hug is heading your way."
Do get in contact with any questions that you might have about this via email: connect@blissfulinfinity.com